Cranberry Pistachio Cheese Log has to be the simplest "prepare ahead" party food to hit your Christmas table this year! Throw a few simple and tasty ingredients together and take this to your next party, host and guests alike will love your contribution.  I promise not to let them know how little effort it really took and you will be a Christmas Cheese Platter Star 😉
For a lot of people the weeks before Christmas and New Year become a hectic blur of endless Christmas parties and end of year functions, all requiring us to whip up a shared plate of something spectacular to contribute to the festive table.  It can all get a bit frantic and some days there just isn't enough time or energy left to make another amazing dessert or stand out dish to bring along.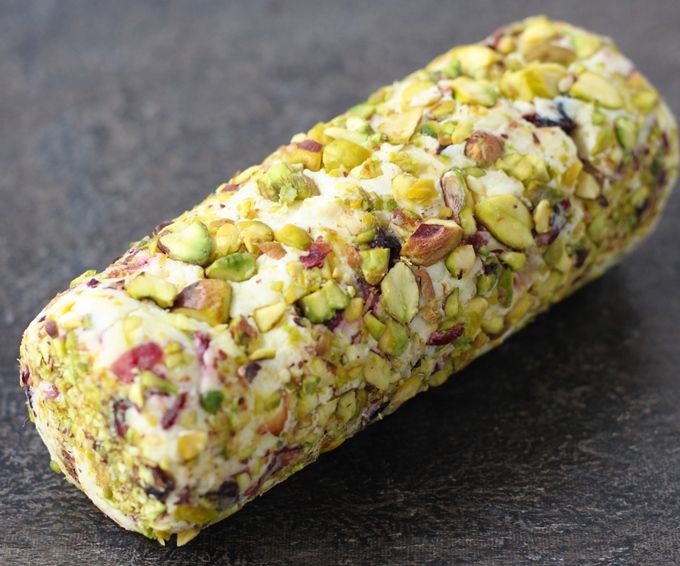 Enter the humble cheese log.  I first saw this combination of flavours in Crème De La Crumb's Cranberry Pistachio Cheeseball.  I made a few minor variations (omitting the garlic powder, using cheeses I had on hand and creating logs instead of the larger ball) and the result was a delightfully tasty appetizer or party nibble that will win over the taste buds of even the most seasoned party goers.  This pretty little plate of cheese is gorgeous enough to hold it's own on any table and it only takes only a few minutes preparation.  Just ensure you use softened cream cheese or it will be difficult to bring all the ingredients together.  I take my cream cheese out about an hour before I want to prepare the logs.  You can even make this the day before to save time (in fact your probably want to as the flavours seem to infuse into the cheese even more the next day).  I like to have a couple of these in the fridge ready to go throughout the festive season so I can show up anywhere with something Christmassy in hand!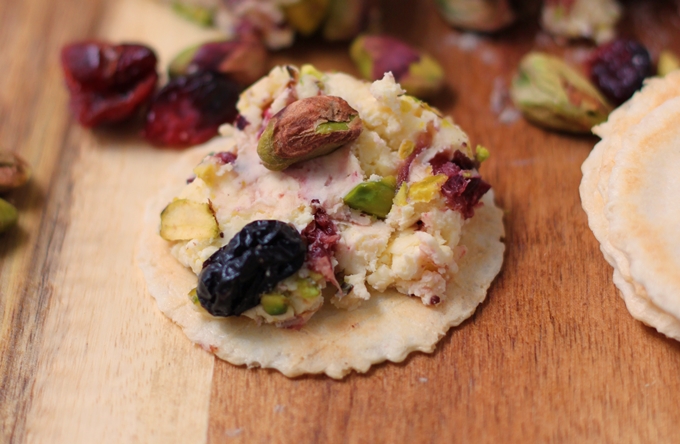 This party starter might be light on effort and ingredients but it certainly isn't boring.  My Cranberry Pistachio Cheese Log is full of the colour and taste of Christmas and I promise it will be hard for anyone to stop at just one smear on their favourite Christmas cracker.