Boozy Oozy Baked Brie is just the thing to put on your party table and it takes only minutes to make.  Baked Brie with Date and Walnut Syrup is a fun addition to your cheese course that will leave a lasting impression with your guests.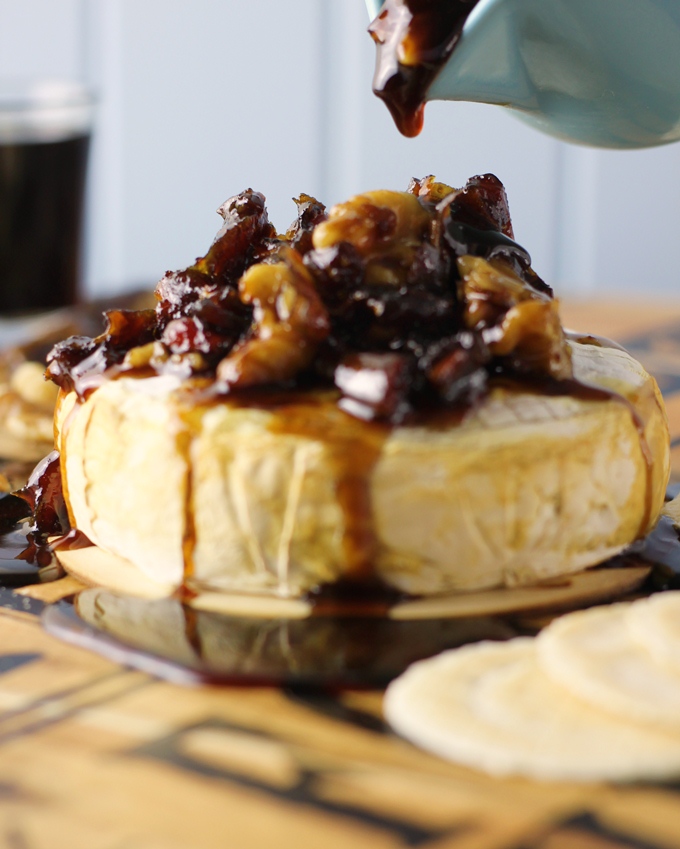 If you don't love hot gooey cheese then this recipe may not be for you and I may need to recommend that we have a serious discussion because honestly, what is there not to like about melted cheese, dripping in a boozy coffee flavoured syrup?  This luxurious melty cheese is irresistible and is guaranteed not to last long once you put it on the table.
If you have been hanging around Little Kitchen Blue the last few months you will have learned that I am a bit of a fan of using coffee in my recipes.  Slow Cooker Spiced Coffee Beef was a taste sensation and of course, my favourite cocktail is the coffee liqueur based Black Russian.  It should be no surprise then than I managed to somehow combine the flavour of coffee with my other favourite ingredient, CHEESE.
I came across a Baked Brie drizzled with coffee liqueur based syrup about a year ago on the Facebook page of the very popular Australian 4 Ingredients.   The 4 Ingredients recipe took the top off the brie and used pecans as the textural nutty element on the cheese.  It has taken me a little while to decide how I wanted to adapt the baked brie to my liking and I must say I am really excited about the result.  I left the top on the wheel of brie for baking and knew that I wanted to pair the cheese with not only nuts but also some kind of dried fruit.
I've spent some time considering the best ingredients to pair with cheese that would also compliment the boozy coffee syrup.  Just about any fruit works well with cheese but the same cannot be said about coffee.  Then I remembered that my local bakery used to make a Date & Coffee Bread on the weekends and I was sold.  Dates, Walnuts, Ooey Gooey Cheese and a Boozy Kahlua Syrup.  What a way to welcome your friends!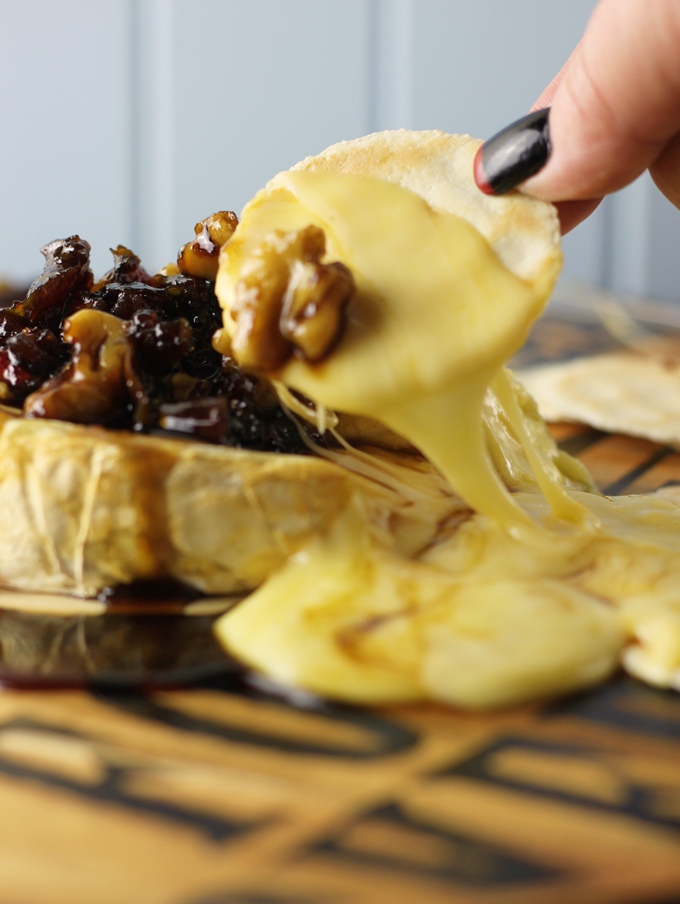 I cooked this recipe and had the photo shoot early on Saturday morning.  I will leave it up to you to decide whether or not I may have had Boozy Baked Brie with Date and Walnut Syrup for breakfast 🙂