What better way to start my posts in 2016 than with this colourful Pear & Balsamic Beetroot Salad with Goat's Cheese that combines tender roasted baby beets with pear that has been prepared three ways before topping with creamy goat's cheese and a tangy balsamic dressing.  A delicious salad that you can serve stacked as an elegant starter or as bright side salad to accompany your main. Either way, I highly recommend that you include my Pear & Balsamic Beetroot Salad with Goat's Cheese in the menu of your first dinner party for 2016.  
My favourite sandwich when I was a kid was beetroot and cheese.  Thick slabs of processed cheese with thin slices of sickly sweet tinned beetroot wedged between two pieces of white bread was my most often requested lunch for school.  I'm no longer a fan of tinned beetroot or processed cheese blocks so when a friend shared a link from Good Food for and-balsamic-beetroot-salad-with-baby-rocket-pecans-and-goats-curd-20111018-29waz.html" target="_blank">Pear & Balsamic Beetroot Salad with Baby Rocket and Goat's Curd I thought it was high time my Cheese & Beets grew up.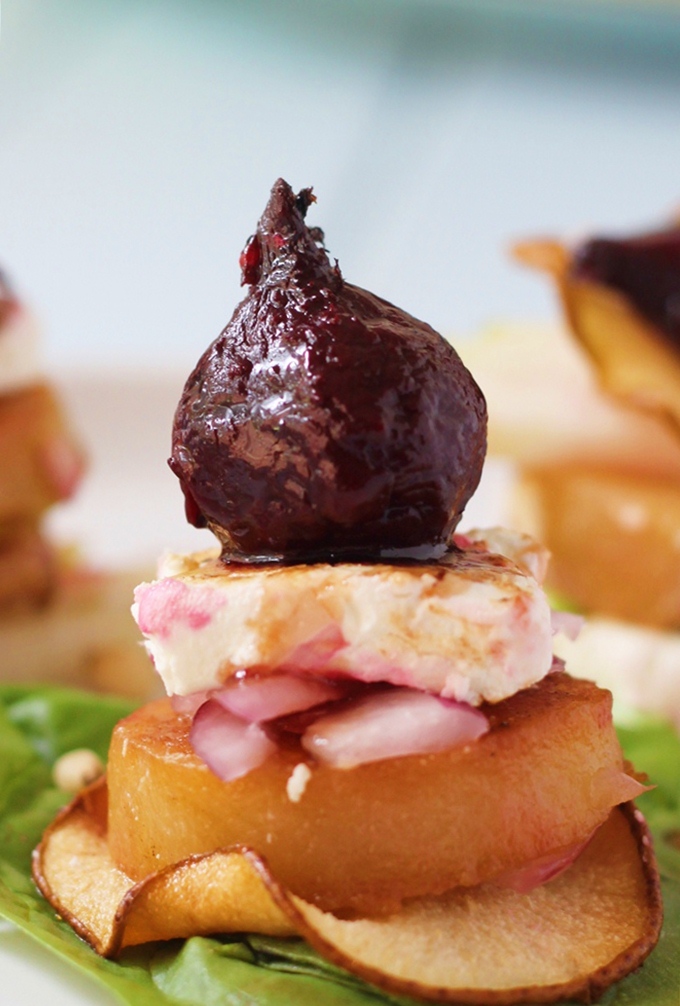 I first made my version of Pear & Beetroot salad for our annual family Boxing Day get together. The pears I had were a little under ripe so, not to be defeated, I decided to caramelise a portion to ensure they were nice and tender.  And just because I think that pine nuts are little drops of golden sunshine I used them in my salad instead of pecans.  The end result was an extremely tasty grown up salad that was declared a hit!  The sweetness of the pears and beetroot are perfectly complimented by the creamy yet tangy goat's cheese and the pear crisps and nuts introduce a lovely crunchy texture to the salad.  A final drizzle of the balsamic oil that is also used to roast the beetroot and I am sure you will agree, this makes a sophisticated change to tinned beets and soap cheese!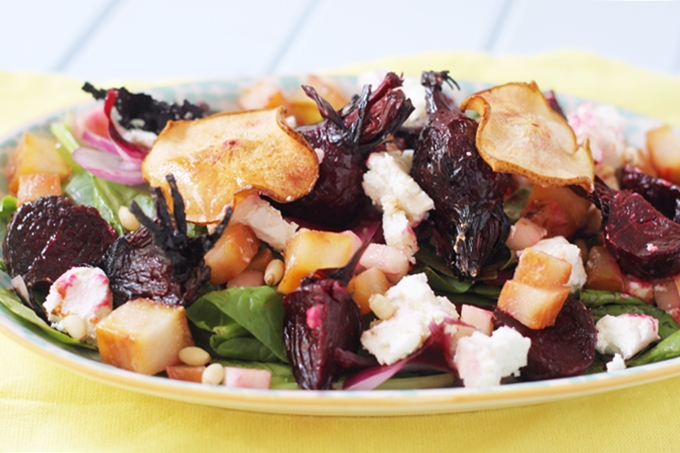 After the Boxing Day success of the salad I knew that it was going to be my first recipe for 2016.  Salads aren't necessarily easy to photograph so I spent a few days trying to decide how best to approach my shoot and kept coming back to the idea of stacking the ingredients for a starter rather than a side dish.  I love the way each ingredient is its own star in the stack, and I hope you agree, it looks pretty too.  Don't be put off by the number of processes involved to get this delightful dish onto the plate.  It is much simpler than it sounds and you can prepare the crisps, roasted beetroot and caramelised pear the day before you need to serve.
As a starter or side, this salad is a definite stand out at any party.