Spiced Potato Salad is a tasty, dairy free side salad that makes a fabulous addition to your summer BBQ menu.  It would also be equally at home served warm along side a hearty winter casserole or curry.  Cook the potatoes in the pressure cooker for a quick and easy side dish that you can prepare at the last minute if necessary.
My pressure cooker is fast becoming one of my favourite appliances.  By now you should have figured out that I am totally in love with my slow cooker. I can produce fantastic meals like my Slow Cooker Spiced Coffee Beef or Slow Cooker Roast Chicken with Char Sui Glaze without being tied to the kitchen all day.  But for quick to the table dishes for the time poor cook, you can't go past the pressure cooker to speed up the process.  If you don't have a pressure cooker don't worry, you can just steam or microwave the potatoes for this Spiced Potato Salad.  I don't recommend boiling the potatoes for this recipe because the curry powder forms a paste on the steaming potatoes that is used in the dressing.  This would be lost in a saucepan of boiling water.
Recently I was looking up potato cooking times over at Hip Pressure Cooking, my go to site for all things pressure cooker, when I discovered this delicious Italian Pressure Cooker Potato Salad.  I made a batch immediately and have to say I was really impressed with this style of potato salad.  It was packed full of flavour whilst still being really light and fresh.  This is because a European style potato salad is different from the usual potato salad that you would be served in Australia.  Instead of a creamy mayonnaise the potatoes are dressed in olive oil and the result is a much lighter side dish.  I had been planning to make a creamy curried potato salad but, inspired by the Italian Potato Salad, I came up my Spiced Potato Salad to serve with a whole side of salmon.
In this recipe I have replaced the parsley and white onion from the Italian version with fresh coriander and red onion.  I also added curry powder to the potatoes before cooking which creates a flavourful paste that combines with the olive oil for a subtly spiced dressing.  The curry powder also gives the potatoes the vibrant colour.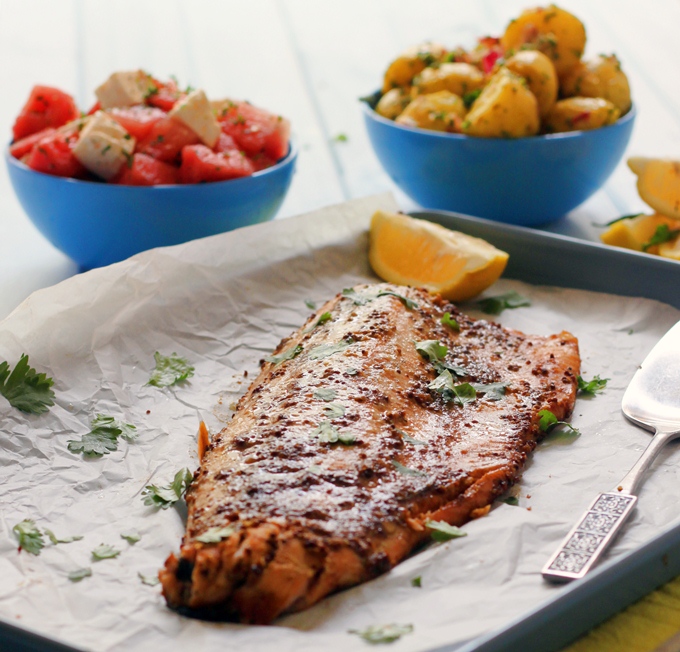 Spiced Potato Salad can be eaten warm or cold. For a complete menu with a difference serve alongside whole Spiced Side of Salmon (recipe coming) accompanied by a refreshing Watermelon Feta & Mint Salad.