Thai Pork Salad Wonton Baskets with Pineapple Salsa made using left over roast pork. These pretty little cups of pork salad are a perfect light starter or canape that will set everyone's taste buds tingling.  The spicy pork, fruity salsa and crunchy baskets are a perfect combination of flavours and texture.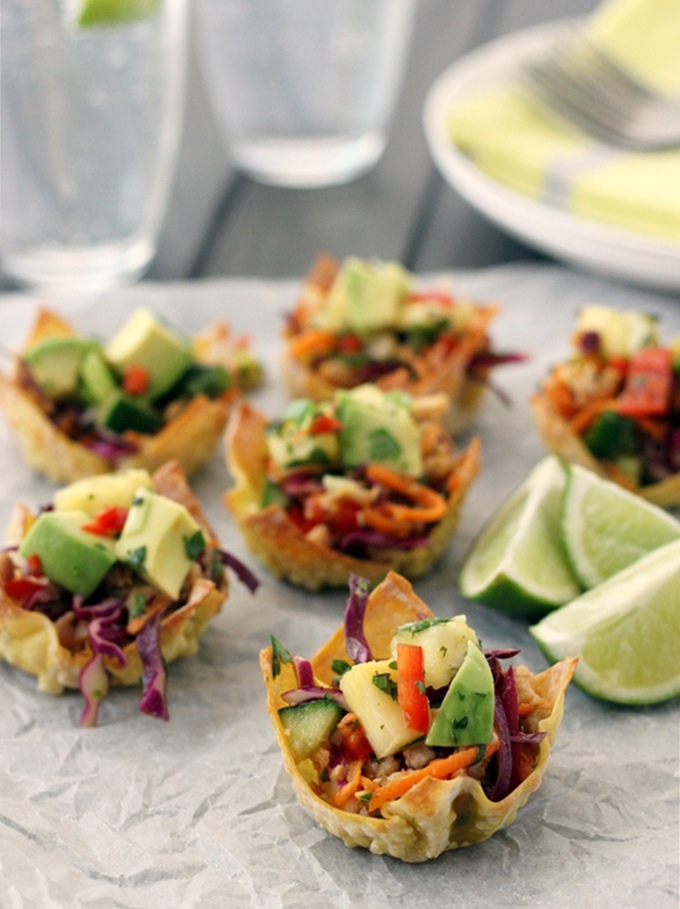 Friday was my last day of leave after nearly 3 weeks off work for our Christmas break. Taking advantage of the last free Friday I'd have in a while, I spent the morning staining new boards for my photo shoots (I used them in these photos, what do you think?),  had a lovely lunch time catch up with my cousin Jo and prepared a special dinner for my daughter and I. A perfect day all round.  Or so I thought!
The moral of this story: determine your loved one's plans before preparing a fancy dinner for them or you too could be left holding the pork loin (with crispy crackling, golden roasted potatoes and a bright pineapple and avocado salsa) whilst your daughter waltzes out the door with her friends. 
I did enjoy my roast pork, even if I had to dine alone. And thankfully I also enjoy creating recipes with left over ingredients so I was up for the challenge of finding a creative way of using the left over pork. Instead of our favourite Thai Lamb Salad that I'd been planning for the weekend, I created a colourful Thai Pork Salad. Inspired by Fat Mum Slim's recipe for Thai Chicken Salad in Crispy Wonton Cups, I piled the spicy pork mix into delicate wonton baskets that had been baked until golden and crispy and finally topped it all with a vibrant pineapple and avocado salsa. I think you will agree that my Thai Pork Salad Wonton Baskets with Pineapple Salsa don't look anything like your usual leftovers!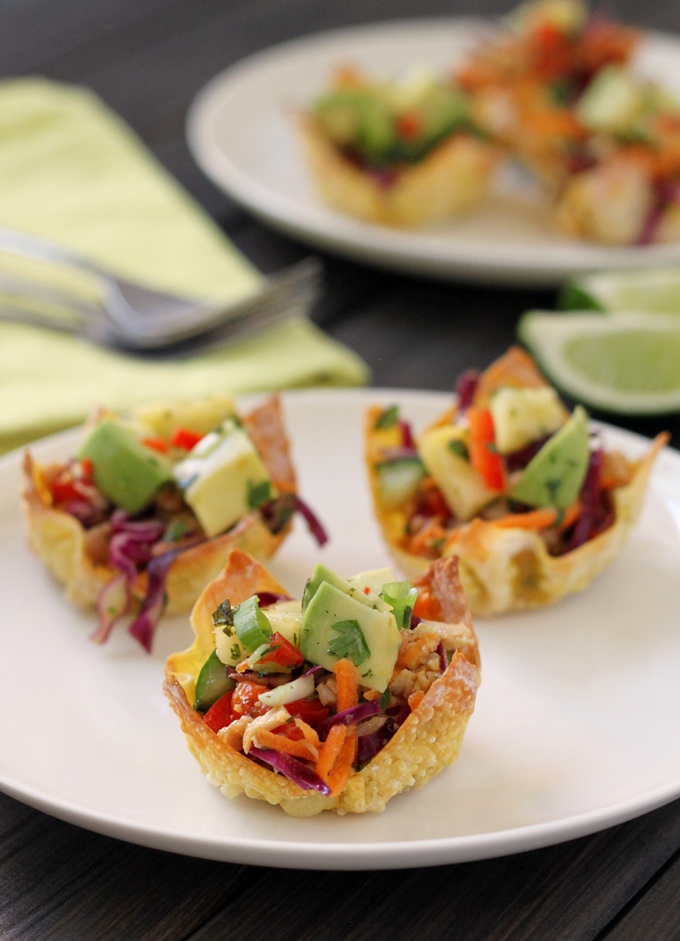 This recipe is really very versatile.  If you don't have or eat pork you can replace it with any other left over cooked meat – chicken or beef would be equally good.  And if you don't have left over meat you can of course prepare some specifically for the recipe.  I think this would also be a great way to serve prawns.  You can adjust the level of spiciness in the dish by reducing the amount of chilli in the salsa and feel free to use what ever salad vegetables take your fancy.  I love the look of the purple cabbage but you could easily substitute it with Chinese cabbage or even iceburg lettuce if that is what you have to hand.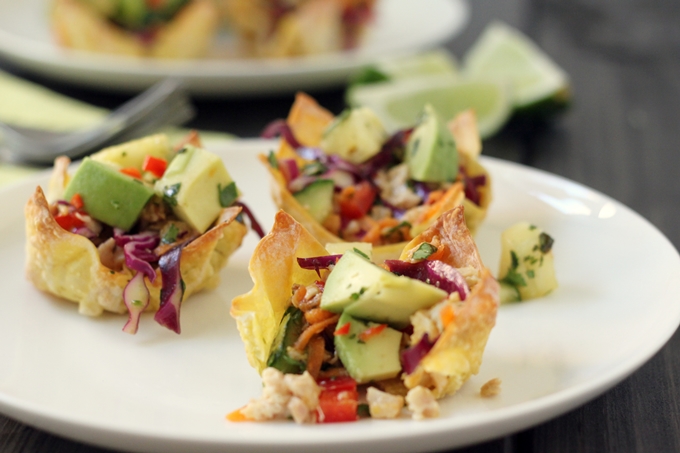 I'd love to know what you think of these gorgeous little Thai Pork Wonton Baskets!