A super fast Prawn Lemon & Rocket Risotto, that takes mere minutes to cook in the pressure cooker.
Yes you read correctly, in the pressure cooker! I love risotto, or should I say I love perfectly cooked risotto, but I've never had the inclination to perfect the traditional pour and stir method. I end up sipping the wine and getting bored whilst staring into the pot, which makes me sip more of the wine. Next minute, gluggy rice, an empty wine bottle and nothing resembling this delightful Prawn Lemon & Rocket Risotto – pizza anyone?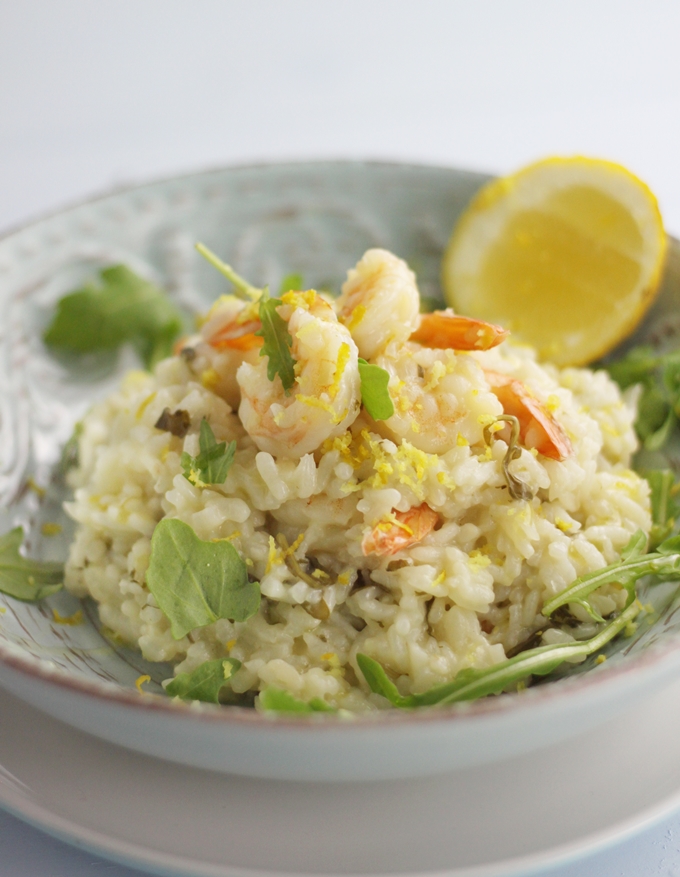 The first recipe I made in the electric pressure cooker I was given for Christmas was a delicious Coconut Chicken Curry.  But it wasn't long before, with a combination of excitement and terror (I've heard all those lid popping, kitchen exploding stories), that I did what any decent cook does, consulted Chef Google. Thankfully I happened upon Hip Pressure Cooking, Laura Pazzaglia's comprehensive website dedicated to sharing fabulous pressure cooker recipes and teaching the best methods for using a pressure cooker. Whether you are using an electric pressure cook like me or the more traditional stove top pressure cooker, I highly recommend a visit. Hip Pressure Cooking has become my pressure cooking bible. I've learnt to soft boil eggs, turn condensed milk in to caramel and to make incredible, never fail, cooks in 7 minutes risotto. 7 MINUTES FOLKS. It takes longer to chop the onions and set the table than it does for the risotto to cook.
I've used the Hip Pressure Cooking method for risotto many times now, and have made perfect, al dente risotto every time. The secret, and difference, is in the way the rice/liquids ratio is determined, taking into account the liquid content of the ingredients being used. Once you perfect the method you can easily create your own flavour combinations, like I have done with this tangy, herbaceous Prawn Lemon and Rocket Risotto.
This recipe was the result of taking a mental inventory of my pantry whilst on my way home from work. I wanted something fast, tasty, but lazy, i.e no dash to the supermarket. All that I needed was the Hip Pressure Cooking method for cooking risotto and a few ingredients I already had in pantry and freezer.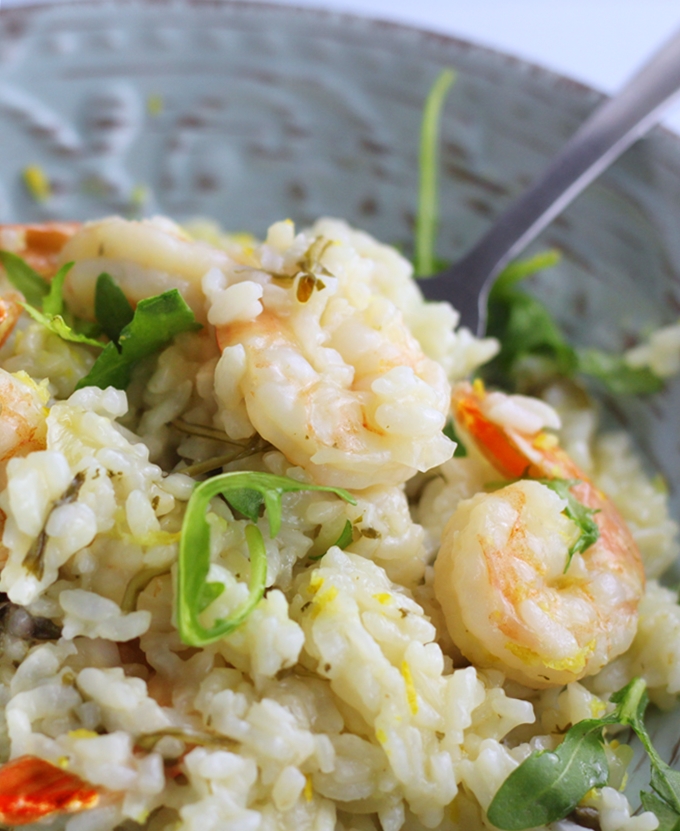 This Prawn Lemon & Rocket Risotto is not only quick and easy, it's also fresh and full of flavour. A perfect meal to throw together in a rush, yet impressive enough to serve the next time you want to dazzle even the most unexpected dinner guests.