Mini Lasagna Cups are cute little single servings of everyone's favourite Italian dish.  Cute, petite and tasty they make a fun additional to lunch boxes and are fantastic to cook ahead and freeze for quick and easy snacks and ready meals.  
Who doesn't love lasagna?  Layers of rich, meaty bolognaise sauce nestled between sheets of melt in your mouth pasta.  Perfect comfort food and great for feeding a crowd.  But, we are a small family and a big tray of lasagna would feed us all week and then some.  These individual Mini Lasagna Cups are the perfect solution for a small family.  This recipe makes a batch of 18 mini lasagna cups.  I used 6 (2 mini lasangas per person) for meal night and served with garlic bread and a fresh tossed salad.  The remaining 12 went into the freezer for lunches or quick snacks.  The beauty of the individual portions is that you can add the cups to your lunch bag straight from the freezer, or pop them in the microwave to thaw and heat in just a few minutes.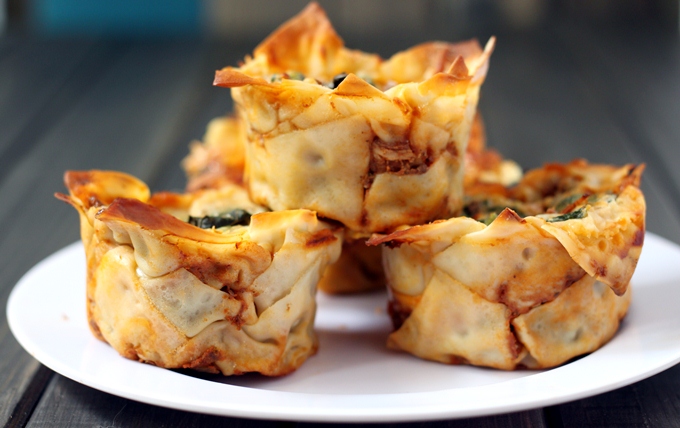 The other awesome thing about lasagna is that it is a perfect dish for smuggling extra vegies into fussy eaters.  I finely mince mushrooms and grate zucchini  and added to the sauce – my anti-mushroom family have no idea – shh don't show my daughter this recipe!  If your people happen to love mushrooms as much as you do then leave them in slices and enjoy their meaty texture in the sauce.
I also love to add a layer of spinach and ricotta to the middle of my lasagna.  This was a trick I learned from a friendly Italian Nonna many years ago. If you have the joy of knowing an Italian Nonna you also know that feeding you is foremost on their agenda.   I was dieting and my friend Maria added a layer of ham, spinach and ricotta to the middle of her lasagna to make it healthier for me, bless her!  I have loved cutting into lasagna and seeing a creamy white, spinach speckled filling every since.
I made my "with love" version of bolognaise sauce for this recipe.  That is, I took the time and effort to build my flavours up before slowing cooking the sauce, rather than the fast and friendly throw everything together version which is ready in half an hour.  I didn't make my own pasta but instead used the left over Wonton wrappers from my Thai Pork Salad Wonton Baskets for the lasagna sheets.  The little square wonton wrappers (available in the dairy section of the supermarket) are the perfect portion size for the Mini Lasagna Cups.
Set aside an afternoon to allow the sauce to simmer away in your slow cooker or on the stove and enjoy the hearty aromas before assembling into the individual lasagna portions.