Braised Balinese Beef Cheeks are a perfect combination of heart warming comfort food and the aromatic, earthy flavours that make Balinese and Indonesian food some of my favourite cuisines.  The beef cheeks are smothered in a robust home made spice paste before being braised low and slow in stock – up to 10 hours in a slow cooker to ensure the beef cheeks break down into tender, melt in your mouth morsels, bursting with flavour. 
Beef cheeks, once a cheap cut often discarded or tossed to the dogs, are growing in popularity, and price!  They used to be a super cheap cut of meat perfect for the budget conscious home cook who was prepared to give them a little bit of love to get them to the most tender.  However, in my neck of the woods at least, they are no longer "budget" and can cost up to $26 a kilo – more expensive than good quality steaks!  I have heard people say that they pick them up for $5-$10 a kilo but honestly, I haven't seen them anywhere near that price in the outer eastern suburbs of Melbourne.  Perhaps the larger supermarkets stock them for marginally cheaper, but not in my area.  I usually have to order them directly from my butcher.  It is well worth hunting beef cheeks down though if you are in the mood for a long, slow cook that fills the house with heady aromas.  Once you prepare the paste and start the Braised Balinese Beef Cheeks cooking in the slow cooker, you can pretty much ignore them for the next 8 to 10 hours and, for all your efforts, you will be rewarded with soft, billowy, melt in your mouth meaty goodness that makes the effort of finding the sought after cheeks worthwhile.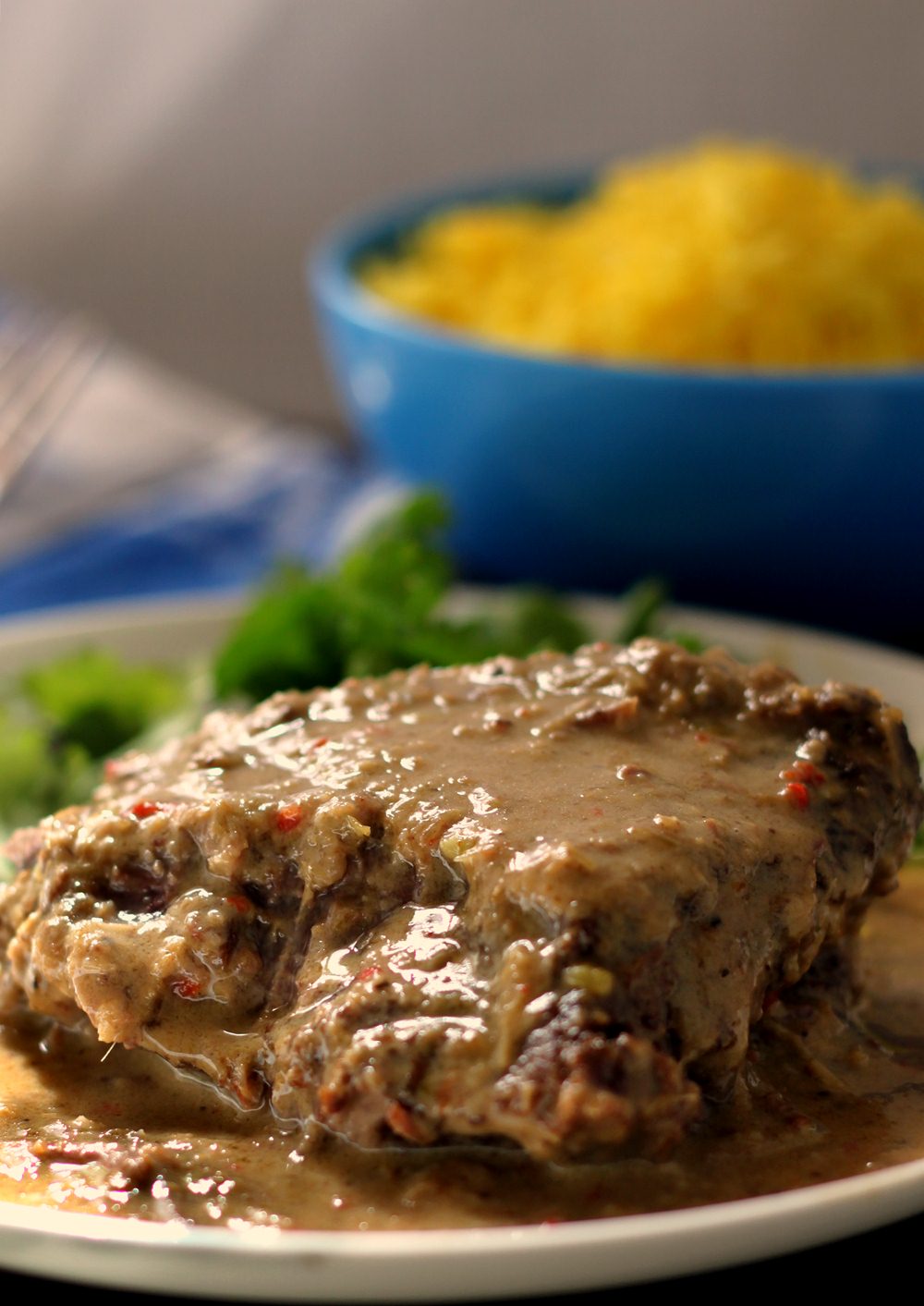 You may have noticed that my blog has been quiet over the last 5 weeks or so.  This is because I finally bit the bullet and bought myself a Thermomix.  So I have spent the last month learning how to drive this new fancy piece of kitchen equipment.  It's a totally new experience and hasn't left much time for the usual attention that I give to Little Kitchen Blue.  But I must say that it has been an awesome journey so far and I am totally in love with my new machine!  In this recipe I have used the Thermomix to prepare the paste that smothers the meat, but you most certainly do not need a fancy kitchen machine to do that.  The Thermomix just makes everything so much faster!  A food processor or even a mortar and pestle will do the job.
These beef cheeks that have been hiding in the back of my freezer for a while, were on the expensive side so I was determined to come up a new and exciting recipe for them.  There are loads of delicious recipes on many of my favourite blogs for beef cheeks cooked in red wine and served with creamy mash, but I really wanted a dish that was a little more exotic.  I love the earthy flavours of Balinese food and have been craving the subtle combination of spices with lemongrass and turmeric that is so typical of Balinese dishes.
I served these mouth watering Braised Balinese Beef Cheeks with saffron rice, a flourish of coriander and finished with a squeeze of fresh lime.  The dish is not at all hot and has a gentle, earthy spiciness.  This was deliberate on my part as I really wanted my daughter and grand daughter to enjoy the flavours of Balinese food and they don't like anything with too much heat.  If you prefer a bit more kick, please add more chili or leave the seeds and membranes in when adding to the spice mix.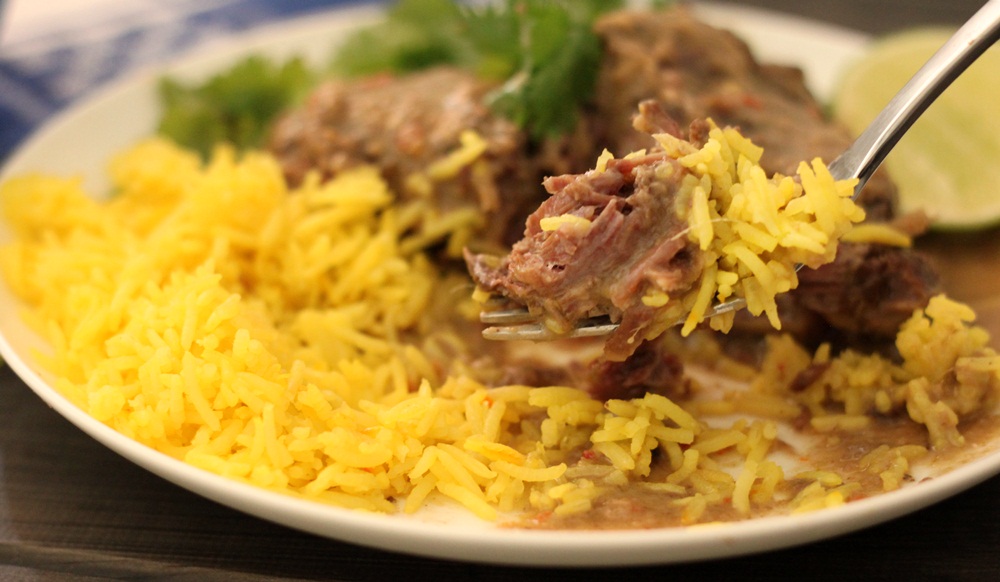 If you don't have a slow cooker, you can pop the prepared dish into a low oven (about 160) for 4-5 hours, just keep an eye on the liquids.  You want to make sure that the meat is covered in the braising liquid to make sure it develops the tenderness and doesn't dry out.