A show stopping, easy pavlova guaranteed to be the centre of attention at your table this Christmas.  As if the crispy shelled meringue and billowy marshmallow aren't enough to ensure your culinary fame, this pav is topped with an indulgent mascarpone cream, home made orange passionfruit curd and seasonal berries – just to knock the socks of all your Christmas guests.  Seriously, who doesn't love a slice of pav?   
My success in cooking pavlova has been hit and miss to say the least. This particular recipe is the culmination of two previous, flat bottomed meringue flops!  I don't know if it was the humid weather I was cooking in or the recipes I attempted, but the two fussy recipes I tried earlier were disasters resulting in big discs of over coloured, too crispy meringue, lacking any of the light fluffy centre typical of a gorgeous Aussie pavlova.  I needed a fool proof, easy pavlova recipe, stat!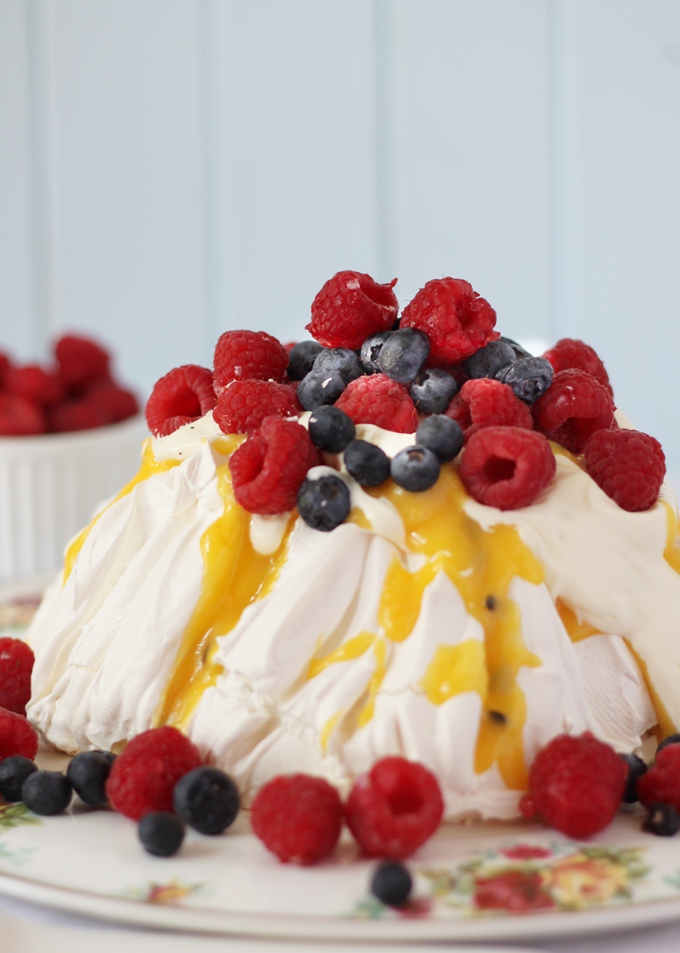 I'd previously tried the techniques of adding the sugar in tablespoon batches and whipping until there wasn't a grain of sugar to be felt between my thumb and forefinger, all to no avail.  Ultimately this recipe that popped up on my Facebook page from Delicious was the fuss free winner.  Throw the ingredients all together in the bowl, whizz together for the recommended time and voila, perfect pav.  Yep, Easy Pavlova.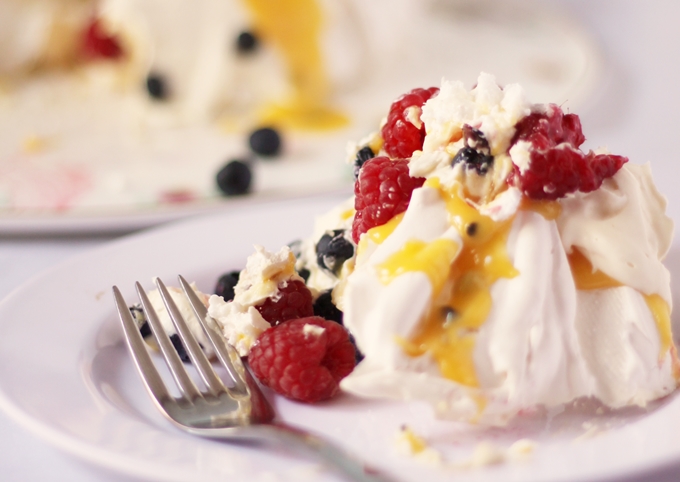 In the spirit of waste not want not I used the left over egg yolks from the 24 (arhhhm 6) eggs required for the easy pavlova to make a deliciously tart and creamy orange passionfruit curd and, as this dessert was to take centre stage, I upped the ante on the cream and blueberries, I think you will agree this dessert sensation is a knock out.  Feel free to top your pav with whatever you fancy.  Grated chocolate, kiwi and mango, even a grated peppermint crisp are perfectly delicious toppings.
What do YOU love atop your pavlova?