Indulgent Raspberry Chocolate Brownies are an extra special treat. The juicy tang of the raspberries and the rich chocolate are perfect partners in crime. Make these for an indulgent end to Christmas dinner or as a delightful gourmet gift for someone special.
I have a bit of a confession to make.  I am no baker.  I don't have a particularly sweet tooth so cakes and biscuits aren't the first thing I think of when I get into the kitchen. I'm more of a savoury kind of girl. I'll take cheese and dip over slices and chocolate any day. Also, I am not particularly good at baking. You're more likely to find me cooking a big batch of aSpaghetti and Meatballs or Slow Cooker Roast Chicken than a decadent gateau!  I don't know if it's me or my oven (I suspect it's a combination of both) but I somehow manage to burn the bottom of cakes more often than not. In fact the first time I attempted these Raspberry Chocolate Brownies the inside was raw and the bottom was a blackened cinder block.  Quite devastating when you pride yourself on your cooking skills and you actually really wanted Raspberry Chocolate Brownies for afternoon tea!
Delving into the world of baked goods came about because I had raspberry flavoured dark chocolate in my pantry that I thought would go perfectly in a brownie. I found a number of raspberry and chocolate brownie recipes on-line but most did not use real chocolate in the mixture.  If I am going to have a chocolate indulgence I want the real deal. This brownies recipe is adapted from one I found at BBC Good Food. However, instead of plain dark chocolate I used blocks of Lindt raspberry flavoured  dark chocolate and, given the price of fresh raspberries at the moment, I used the less expensive frozen variety to add the tarty fruity tang. Fresh raspberries were used to dress the brownies and to make them look extra pretty when served.  Being a fan of cutting corners and saving time I used my microwave to melt the chocolate mixture.  I find it quicker and not as messy.  Be warned, this is a very rich mixture, a definite "sometimes food" full of sugar, butter and chocolate. Look away now if calories terrify you!
In light of my previous baking mishaps and brownie failure I consulted a dear relative who excels in all things baked and she gave me a few pointers – thank you Mrs Smith for your helpful advice, as you can see this batch was a resounding success. Careful weighing of ingredients, adjusting the position of my oven rack and lowering the cooking temperature resulted in perfectly gooey brownies with not a speck of charcoal in sight! These Raspberry Chocolate Brownies have a lovely fudgey centre and the edges have a chewy crispness that makes brownies such a popular choice for dessert and cake lovers all over.
This is a very wet mix, if you prefer your brownie a little more cake like in the centre you can increase the cooking time but do be careful not to burn these babies like I did in my first attempt. To ensure the brownies can be easily sliced it is recommended that you put the cooled mixture into the fridge to set. Trying to remove the brownie from the pan without this step may result in a gooey mess!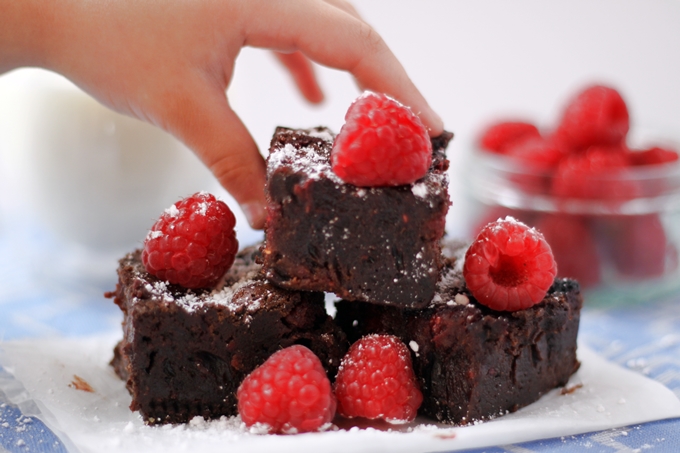 I hope you enjoy these as much as I did – as you can see Grandbaby couldn't resist grabbing herself a treat the minute I said I was done with the photos!