Spiced Side of Salmon is a surprisingly quick and economical way to prepare fresh fish.  For very little effort you have a special meal full of WOW factor.   
I love salmon but it can be very expensive, especially if you buy the precut fillets.   Last time I visited the fishmonger I was very excited to see that whole salmon was on special.  I was a little bit daunted at the prospect of preparing and cooking whole fish for the first time so I asked my fishmonger to fillet and pin bone the salmon for me.  I came away with two, 1kg sides of salmon for AU$30.  I used one side to prepare this Spiced Side of Salmon and the other went into the freezer for another time.  At $15 a side it really is an economical way to feed a family.  One side of salmon feeds 4-6 people.  If you do get the fishmonger to fillet a whole fish for you, make sure you ask for the head, tail and all the trimmings.  You can put the scraps into the freezer and use them to make home made fish stock at a later date. Waste nothing!  Of course you can buy a precut side of salmon for this recipe if you prefer.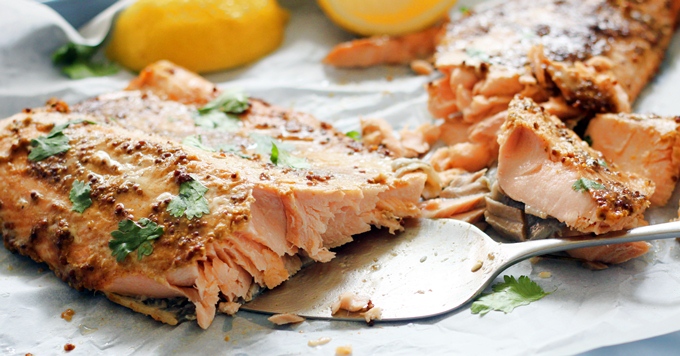 The salmon is rubbed with a simple spice mixture that is sweetened with honey and mixed with mustard for a depth of flavour.  Try and let the Spiced Side of Salmon marinate for at least 30 mins.  I left mine marinating overnight, because I was trying to save preparation time for the next day when I knew I'd be busy with the photo shoot.  A short marinating time is perfectly fine.
Cook the fish to your liking.  When serving guests I like to cook salmon so that its pink but cooked through and 10 minutes was enough to achieve what you see here.  If you like your salmon a little undercooked, try 8 minutes.
There is plenty of salmon to serve 4-6 generous serves.  I served 3 with plenty of leftovers for lunch the next day.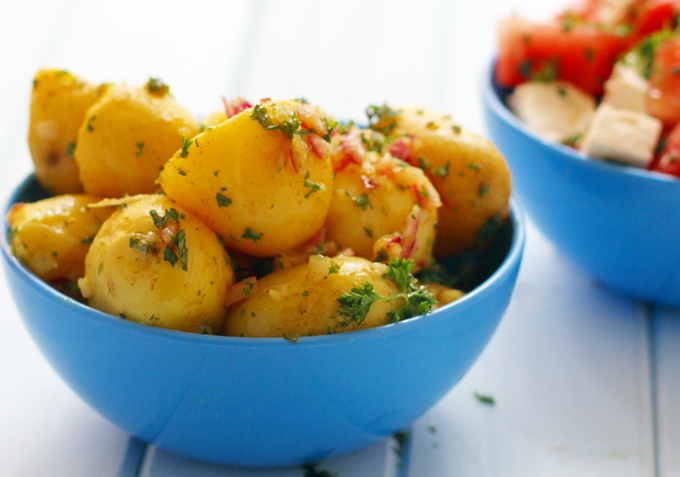 I served with the Watermelon Feta & Mint Salad and Spiced Potato Salad that I shared with you last week.  This made a complete menu that is perfect for serving on those warm summer days where cooking and food prep is the last thing on your mind!