"Necessity is the Mother of Invention" the saying goes and it definitely applies to this zesty Rocket & Watercress Pesto with Macadamia Nut Oil. 
I was laid up with a really nasty flu last week that had me bedridden for a few days.  Thankfully I tend to over cater whatever I cook and the freezer was suitably stocked with tubs of my Chinese Chicken & Corn Soup.  I managed to survive a few days without cooking, but only just!  The problem with not cooking though is that you end up with a vegetable crisper full of fresh ingredients that spoil when not used within a few days.
As awful as I was feeling, I couldn't bare to see the vibrant Rocket, Watercress & Baby Spinach mix go to waste.  I had bought the mix intending to make a fresh salad to accompany pasta.  Well the pasta didn't happen and the leaves remained in the crisper in danger of wilting.  Even if I felt like making a salad I had no inclination to sup on anything other than nourishing bowls of soup.  Thus, I found myself pondering the fate of the crisper contents whilst brewing a soothing honey and lemon tea.
Rocket has been making an appearance on my menus lately.  Having grown fond of its bitterness I've been using it in place of lettuce or spinach in lots of dishes.  It even starred in last week's Prawn Lemon & Rocket Risotto!  I definitely did not want this star ingredient to end up in the bin.  A pesto whipped up in my mini food processor was the perfect solution.  It wouldn't take too much effort and only required basic, store cupboard ingredients.  Brilliant!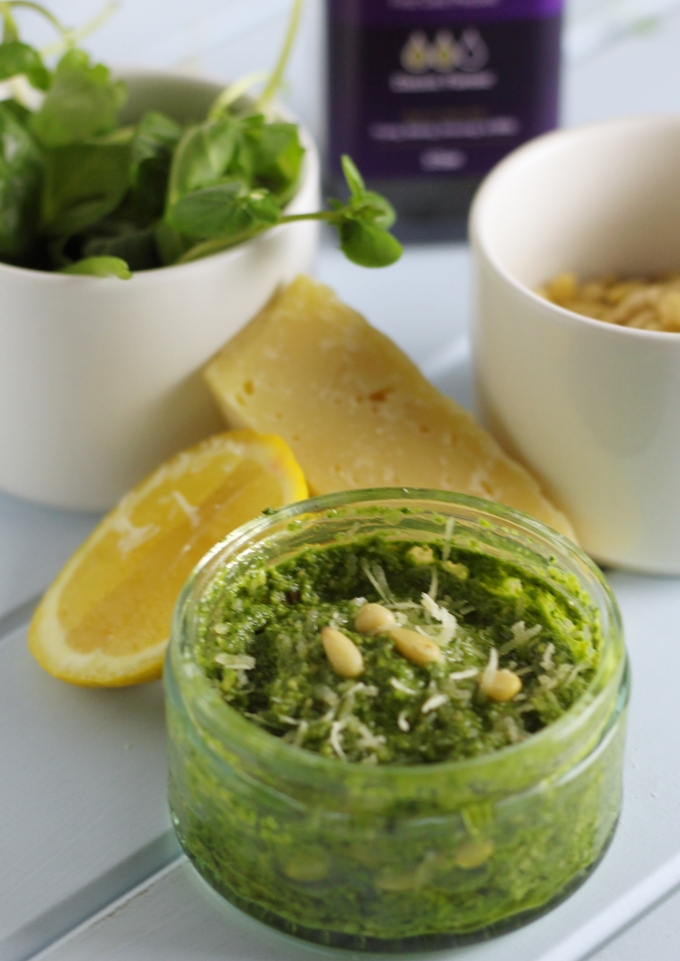 Whilst my tea brewed I gathered the leaves, grated the parmesan, minced some garlic, zested a lemon and measure out the pine nuts.  I grabbed my trusty bottle of Extra Virgin Olive Oil only to discover a scant few drops remaining in the bottom of the bottle.  Certainly not enough to drizzle into my pesto in progress.  Like dressings, pesto requires good flavoured, high quality oil so replacing it with cooking oils was out of the question, but there was no way I was leaving the house to go to the supermarket!
I love using uniquely Australian ingredients in my cooking and had recently bought a bottle of Macadamia Nut Oil.  Macadamia nuts are native to Australia and I often substitute them when recipes call for walnuts or brazil nuts.  I have been enjoying using the Macadamia Nut Oil as a healthier alternative for frying in place of vegetable and canola oils.  Unlike olive oil, Macadamia Nut Oil has a very high smoke point, making it ideal for frying.  I had yet to use it in dressings or as a raw oil so I tipped a little on my finger.  As soon as I tasted the buttery goodness I knew it was a perfect substitute for the traditional olive oil and would be the star of my newly created Rocket & Watercress Pesto with Macadamia Nut Oil.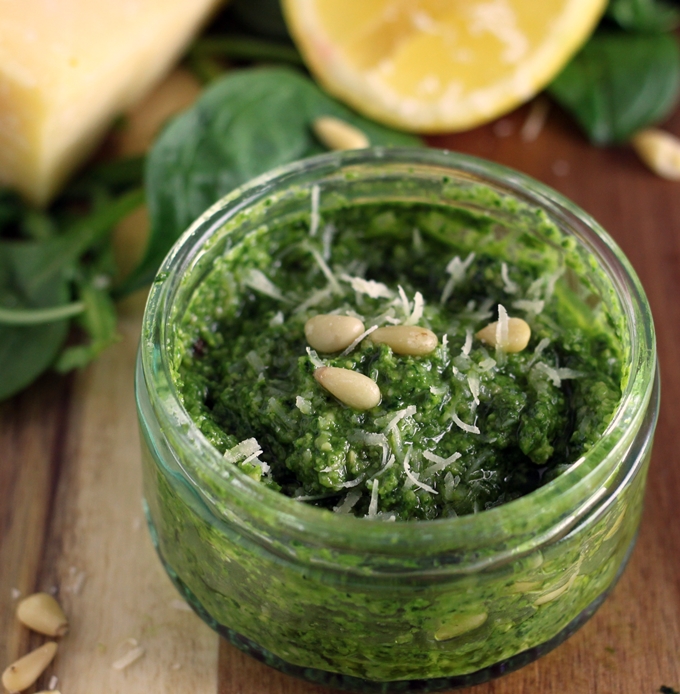 The bitter rocket and peppery watercress team beautifully with the creaminess of the parmesan, pine nuts and Macadamia Nut Oil.  The lemon and garlic add a little bit of sing making this pesto perfect to toss through hot pasta.  Try it on a sandwich, mixed through cream cheese for a tasty dip or dolloped on top of tomatoes before slowly roasting.  Pesto really is one of the most versatile ingredients you can have in your fridge and making it yourself is so easy.   Why don't you give it a try?
Of course if Macadamia Nut Oil is not available in your area, simply substitute with good quality Extra Virgin Olive Oil.