When I was growing up Mum worked shift work and often on the weekends.  So in our house the traditional "Sunday roast" could in fact turn up on the menu as a weekday dinner.   Walking through the front door after school to the aroma of slow roasted lamb meant not only a delicious roast dinner with crispy roast potatoes, home made gravy and vinegary mint sauce.  It also meant a baked pudding.  A golden crusted, custardy pudding made from stale bread or left over rice always accompanied my Mum's lamb roast.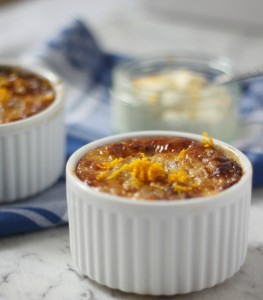 I have been cooking for my family for nearly 30 years and I still cannot quite replicate Mum's roast spuds; fluffy on the inside, crisp and golden on the top with bottoms that have absorbed just enough of the pan juices to make them soft but not soggy.  I do think I make a pretty mean pan gravy.  And whilst I imagine my own roast lamb, spiked with garlic and rosemary and cooked to tender medium rare, is all that is juicy lamby perfection, I would do just about anything for one more of my Mum's roast dinners.
Mum has been gone for over five years now and lately I've been craving all the comfort foods of my childhood, wishing she was here to show me just how she made them.  I always have a sense of her presence in my life, but lately it seems to be in the kitchen. 
So, this weekend as I was preparing what turned out to be a rather extraordinary slow roasted pork loin, the desire for one of Mum's golden roast night puddings was persistent.  I had plenty of left over rice, and Mum's little white corningware dish that is now mine, was begging to be filled.  So I set out to fulfil my craving and the result was a surprisingly creamy and golden dessert that immediately took me back in time.
I made this pudding with a few minor variations to the original recipe: I replaced the vanilla essence with vanilla extract and added the slightest hint of orange zest.  I was recently given a lovely stash of home grown oranges and believe me that little zing of orange combined with the spicy aromatic heat of the cinnamon made a rice pudding I would be proud to serve my Mum.  The orange flavour is very subtle and really emphasises the spice of the vanilla and cinnamon.  This isn't a super sweet rice pudding, so feel free to increase the sugar if you prefer a sweeter dessert.