Succulent Slow Cooker Roast Chicken with a Golden Char Sui Glazed Skin
It is no secret that I am a big fan of slow cooking and that my slow cooker is one of my most loved appliances. It is not surprising then that recipes like my Cranberry Glazed Lamb Shanks and Slow Cooker Roast Chicken dishes make regular appearances on our dinner menu.  Slow Cooker Roast Chicken with Char Sui Glaze is a succulent variation brimming with Asian flavours.  The crispy, golden skin is a true delight.
The golden skin of this chicken is achieved by the spice rub and from searing the chicken either in the base of a searing slow cooker or in a large frying pan.  I ended up purchasing a searing slow cooker so I could save on dishes when slow cooking.  One of the best investments I've ever made for my kitchen.  I always brown Slow Cooker Roast Chickens  and other meats because I love to get that luscious colour that can only be achieved by caramelisation.  To obtain crispiness as well as colour to the skin, I cook it for the last 1/2 an hour in a preheated oven. This step is not completely necessary and one I only use if I have the oven on anyway.  The skin is still golden brown and delicious without the oven.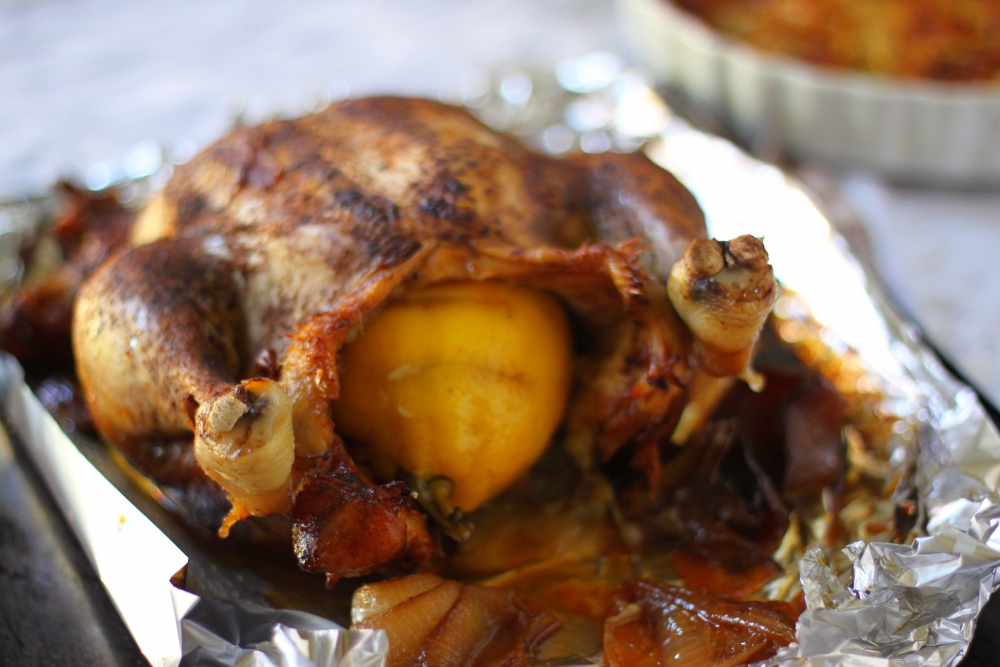 The long slow cook creates the most melt in your mouth tender chicken.  The garlic and lemon gently infuse the chicken with flavour from the inside.  The juices released from the chicken as it slow cooks combines with the glaze for a tasty sauce/gravy without any effort.  It is difficult to resist ripping off one of the legs as soon as this baby is ready!  We enjoyed this with an indulgent and creamy Potato Bake and a side of Pumpkin, Feta & Rocket Salad.
All slow cookers are different and you need to get to know yours just like you get to know your oven.  I only ever cook a whole chicken for 4 hours on low.  In my slow cooker this ensures that the chicken is cooked through but is still sliceable without falling apart when you remove it from the pot.
Check my article on getting the most out of your slow cooker for more slow cooking hints and tips.